---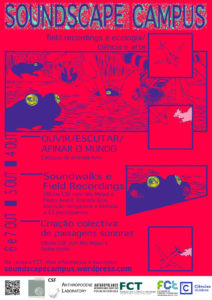 ---
CIUHCT and CSF Workshop invited students, researchers and teachers from the Faculty of Science and Technology of NOVA university (FCT-NOVA), along with other universities, for four days of interdisciplinary discussion, field practices and artistic production on the soundscapes of the FCT-NOVA Campus.
The goal was not only to allow for a different exploration of the FCT through the medium of sound, but also to create a broader discussion regarding the acoustic space as a phenomenon that allows us to reflect on our relation with environmental surroundings and on the historic transformations that said environments are subjected to.
The workshop consisted of an interdisciplinary one-day conference with talks from invited speakers ranging from the fields of History and Philosophy of Sciences and Technology, Environmental Sciences and Engineering, Acoustic Ecology and Sound Arts.
The remaining days were dedicated to soundwalks and field recordings (previous experience with such practices was not demanded from the participants). Then, following the CSF method, the participants explored the FCT-NOVA Campus searching for soundscapes and sound fragments that were later rearranged into two different collectively made sound-works.
---
O CIUHCT e a CSF Workshop convidaram alunos, investigadores e docentes da Faculdade de Ciências e Tecnologia da NOVA e outras faculdades para quatro dias de discussão interdisciplinar, práticas de campo e produção artística a partir dos ambientes sonoros do Campus da FCT.
O objectivo passou não só por proporcionar uma exploração diferente do campus da FCT através do som, como suscitar uma discussão mais alargada em torno do espaço acústico enquanto fenómeno que nos permite reflectir sobre a nossa relação com o ambiente que nos envolve e as transformações históricas a que está sujeito.
A oficina contou com um dia de colóquio de natureza interdisciplinar, onde foram apresentadas palestras por convidados das áreas da História e Filosofia da Ciências e da Tecnologia, Engenharias e Ciências do Ambiente, Ecologia Acústica e Artes Sonoras.
Os restantes dias foram dedicados à prática de soundwalks e field recordings (não era exigida experiência prévia nessas actividades por parte dos participantes). Seguindo o método da CSF,  explorou-se o campus da FCT em busca de paisagens e fragmentos de som que foram, posteriormente, reorganizados em duas peças sonoras colectivas.